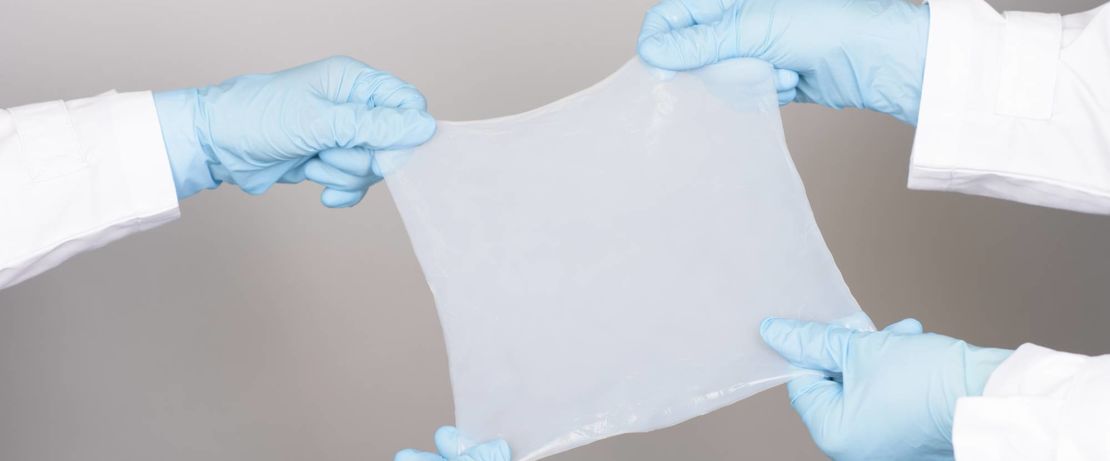 Applications
Biosynthetic cellulose - a hydropolymer with properties for innovative medical applications. 
Biotechnology has increased our access to modern, nature-based materials and high-quality products. This has improved the treatment of diseases, infections and injuries and made a positive contribution to medicine. Our biosynthetic cellulose is produced by bacteria that biosynthesize a three-dimensional network out of glucose building blocks. The fibers form a matrix which holds a large amount of water. Many bacteria strains can be used to produce biosynthetic cellulose but only a few are applicable for biotechnological use. Our strain is a proprietary and protected strain that produces large amounts of biosynthetic cellulose.  
We are continuously researching possible applications for our biosynthetic cellulose. For biomedical applications, this biomaterial is particularly suitable as a wound dressing or temporary skin replacement, implant material and as a scaffold for tissue engineering. There are also other applications for this biomaterial in technology, the food industry and cosmetics. 
BIOTECHNOLOGY BEHIND OUR BASE MATERIAL BIOCELLIC+ 
Our base biosynthetic cellulose material is called biocellic+. This material can be produced in many shapes. It is soft, flexible, moist and cool. We recommend that our customers and cooperation partners experience the look and feel of this unique biomaterial first hand and order a sample from us. 
We manufacture biocellic+ from sugar using a biotechnological fermentation process. Thanks to its very fine fiber network, this natural, renewable biopolymer of pure cellulose has unique material properties. Biocellic+ can be produced in the form of fleeces, films or fiber suspensions and it can be tailored to different applications. 
DISCOVER THE FEATURES OF BIOCELLIC+ 
We can work with you to develop your desired solution using our biosynthetic cellulose base - biocellic+. Whether you are looking for a drug delivery or medical device solution, biocellic+ can be used in a broad range of applications that benefit human health. 
Benefits of biocellic+ include: 
Controlled adjustment of special properties during biosynthesis
No cytotoxic or sensitizing effects - demonstrated in tests according to DIN EN ISO 10993-5 and DIN EN ISO 10993-10
No influence on cell proliferation - as shown by in vitro biocompatibility tests with blood cells and cell cultures
No genotoxicity or haemolytic behavior 
Services
Partnering with JeNaCell – An Evonik Company
Do you have ideas for products but are searching for a partner to implement them? Or perhaps you need development capacities, or wish to improve existing products? We can work with you on your ideas and help you implement them into successful product solutions. When you work with us, you benefit from our experience in numerous process and product design projects, our expertise in the field of biosynthetic cellulose and our extensive network of academic and industrial partners.
Customized Solutions
Innovative, tailor-made products allow you to differentiate from your competitors. We can customize our high-performance biomaterial to your individual requirements, irrespective of the form you need.
To talk to us about an upcoming project, please get in touch here: info-jenacell@evonik.com